COVID-19 Coronavirus Testing Services
Remote Tele/Video Consultations
Need help? Please book an appointment
or call 01341 555061
| | |
| --- | --- |
| Remote Travel Health Consultation | £20 |
| Remote COVID-19 Consultation | £20 |
Vaccination prices
Need help? Please book an appointment
or call 01341 555061
All initial appointments are subject to a £20 non refundable appointment fee, follow up appointments associated to the same trip will not require an appointment fee
This page is only intended to be a brief guide. Information and prices are subject to change without notice. Nomad cannot accept responsibility for any omissions.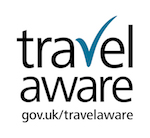 In-clinic antimalarial prices
Need help? Please book an appointment
or call 01341 555061
Atovaquone/Proguanil* (Generic Malarone)
£2.60 per tablet
Avloclor (Chloroquine) x 20 tablets
£15.00
Doxycycline* 100mg
61p per tablet
Duo pack (Chloroquine x 14 tabs PLUS Proguanil x 98)
£17.50
Lariam*
£3.51 per tablet
Malarone*
£3.90 per tablet
Malarone paediatric*
£1.67 per tablet
Paludrine (Proguanil) x 98 tablets
£14.50
*Medication fee of £10 required
All initial appointments are subject to a £20 non refundable appointment fee, follow up appointments associated to the same trip will not require an appointment fee
Services included in your in-store Antimalarial prices:
Consultation with travel health nurse advising antimalarials to take according to destination with detailed maps indicating areas graded risks.
Advice regarding suitable anti – malarials in terms of medical history and / or current medication.
Information on how to take the tablets and how to deal with known side effects of the medication.
Every consultation has telephone access to specialist Doctor if further information is required.
Advice on insect repellents and clothing treatments to avoid bites.
Other services
Need help? Please book an appointment
or call 01341 555061
Blood grouping
£66.00
Diamox* (altitude sickness)
£19.50
Hepatitis B Immunity Testing
£55.00
Malaria self-treatment
POA
Post-exposure rabies treatment (1-5 doses, price per dose)
£15.00
Replacement certificates
£20.00
Yellow Fever exemption certificate
£20.00
Other blood tests are available on request
*Medication fee of £10 required
All initial appointments are subject to a £20 non refundable appointment fee, follow up appointments associated to the same trip will not require an appointment fee
Travel Health Screening & Psychosocial Prices
Doctor led Travel Health Screenings
Need help? Or to book an appointment
call 01341 555061
Charity
Corporate
Face to Face Medical Clearance Screening – Adult
£318
£400
Face to Face Medical Clearance Screening – Child
(with tests)
£210
£290
Face to Face Medical Clearance Screening – Child
(without tests)
£165
£215
Remote Medical Clearance Screening – Adult
£119
£150
Remote Medical Clearance Screening – Child
£81
£100
Medical Diagnostic Consultation
£108
£118
Short Term Screening
£50
£50
Post exposure prophylaxis kits
Need PEP kits? Call for info
call 01341 555061
| | |
| --- | --- |
| Post Exposure Prophylaxis Kit – 3 Day | £150 |
| Post Exposure Prophylaxis Kit – 5 Day | £250 |
Psychosocial Services
Need help? Or to book an appointment
call 01341 555061
Wellbeing Coaching
Coaching offers guidance on work/life balance and enhancing wellbeing health goal achievements
£155
Stress Management Consultations
This appointment enables the individual to create a stress management plan and be able to recognise the stress response in themselves & others
£155
Supervision
Supervision is offered to anyone who is trained in PFA peer support, anyone managing staff through challenging situations or to discuss general workplace supervision issues
£155
General Counselling
Professional counselling for anyone experiencing burnout or stress, or is struggling with other challenges in their life
£155
A report request for any of the above apoointments
£65
Additional Responding in a crisis support (per hour)
£145
Training
Courses can be tailored to suit various lengths
| | |
| --- | --- |
| Stress awareness & resilience building (full day course) | £1,200 |
| Psychological first aid (full day course) | £1,200 |
| Trauma awareness (full day course) | £1,200 |
| Vicarious trauma (half day course) | £600 |
| Sexual violence awareness (full day course) | £1,200 |
Pathways
Pre-assignment resilience consultation
This appointment helps prepare an individual for deployment, reviews psychological health and enhances resilience & coping strategies
£155
Mid-assignment consultation review
This appointment is offered during deployment as part of a pathway of care or as a follow up appointment if additional psychological support is needed
£155
Post-assignment consultation review
This psychological appointment provides an opportunity to debrief & reflect on the previous deployment
£155
Trauma Services
Trauma services initial assessment
Offered to anyone who has experienced a traumatic event. Includes assessment of trauma symptoms & identifying on-going support
£155
Trauma services – psychological first aid (PFA)
Offered to groups or individuals who have experienced a traumatic incident. PFA focuses on understanding trauma symptoms & building coping strategies
£155
Trauma specialist counselling (EMDR/TF-CBT)
These trauma specialist therapies offered for counselling support are recommended by the NICE guidelines, WHO & APA
£155